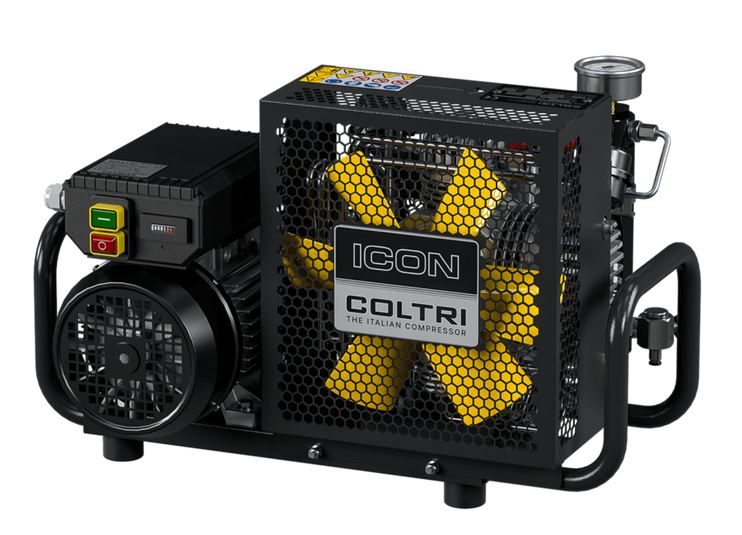 Specifications
Standard equipment
1 filling connection to be chosen from DIN 232, DIN 300, INT / YOKE 232 bar
1 filling hose 1.2m long
Hour counter (only for single-phase electric motors)
Frame color Black RAL 9005
Motor
Icon 50 LSE EM
Icon 100 LSE EM
Icon 100 LSE ET
Single-phase electric

1.1 kW – 1.4 Hp

1,400 engine revolutions (RPM)
230 V, 50 Hz, 14 A
230 V, 60 Hz, 14 A

Single-phase electric

2.2 kW – 3 Hp

2,800 engine revolutions (RPM)
230 V, 50 Hz, 14 A

3,400 engine revolutions (RPM)
115 V, 60 Hz, 29 A
230 V, 60 Hz, 14 A

Three-phase electric

3 kW – 4 Hp

2,800 engine revolutions (RPM)
230 V, 50 Hz, 11.5 A
400 V, 50 Hz, 6.7 A

3,400 engine revolutions (RPM)
230 V, 60 Hz, 11.5 A
400 V, 60 Hz, 6.7 A
Pumping group
Icon 50 LSE EM
Icon 100 LSE EM
Icon 100 LSE ET
Range:
50 l / min
3 m³ / h
1.8 CFM (ft³ / min)Number of laps:
2,250 RPM
Range:
100 l / min
6 m³ / h
3.5 CFM (ft³ / min)Number of laps:
2,250 RPM
Range:
100 l / min
6 m³ / h
3.5 CFM (ft³ / min)Number of laps:
2,800 RPM
Operating pressure
Icon 50 LSE EM
Icon 100 LSE EM
Icon 100 LSE ET
From 232 to 330 bar

3,300 to 4,700 PSI

From 232 to 330 bar

3,300 to 4,700 PSI

From 232 to 330 bar

3,300 to 4,700 PSI
Charging time
Icon 50 LSE EM
Icon 100 LSE EM
Icon 100 LSE ET
60 minutes

(10 l tank empty
at 0-200 bar)

20 minutes

(10 l tank empty
at 0-200 bar)

20 minutes

(10 l tank empty
at 0-200 bar)
Noisiness
Icon 50 LSE EM
Icon 100 LSE EM
Icon 100 LSE ET
91 dB (Lwa guaranteed)

88 dB (Lwa measured)

68 dB (Lpa measured)

91 dB (Lwa guaranteed)

88 dB (Lwa measured)

68 dB (Lpa measured)

94 dB (Lwa guaranteed)

91 dB (Lwa measured)

71 dB (Lpa measured)
Dry weight
| | | |
| --- | --- | --- |
| Icon 50 LSE EM | Icon 100 LSE EM | Icon 100 LSE ET |
| 30 kg / 66 lb | 38 kg / 83.7 lb | 38 kg / 83.7 lb |
Dimensions
Icon 50 LSE EM
Icon 100 LSE EM
Icon 100 LSE ET
61 x 40 x 39 cm (B x W x H)

24 "x 15.7" x 15.3 "(W x D x H)

61 x 40 x 39 cm (B x W x H)

24 "x 15.7" x 15.3 "(W x D x H)

61 x 40 x 39 cm (B x W x H)

24 "x 15.7" x 15.3 "(W x D x H)
Scroll Down
Optional
Final pressure shutdown
The compressor switches off automatically when it reaches final pressure.
Automatic condensate drain with timer
Available only for compressors with electric motor.
The automatic condensate drain removes water from the intermediate separator and final separator automatically during operation (every 7 minutes).
Composed of: 1 timer +1 solenoid valve
C-Monitor
Final filter monitoring system, oil change and technical interface.
Remote suction hose kit
3 meter remote suction kit.
To be used only for Portables and Third Lung compressors with gasoline engines.
Pressure maintenance valve